In the CIRCULAR FOAM project we are developing a blueprint for the implementation of a fully circular, systemic solution for the recycling of rigid PU foams. The blueprint is being tested and prepared for replication in three European regions:
Rheinisches Revier, Germany
Upper Silesia/Metropolis GZM (Górnośląsko-Zagłębiowska Metropolia), Poland
Greater Amsterdam, The Netherlands
To make this a success, we are connecting all relevant actors from the public, private, academic, and financial sectors and the civil society. Discover more about the three model regions and their ambitious goals here or in our Regional Readiness Report.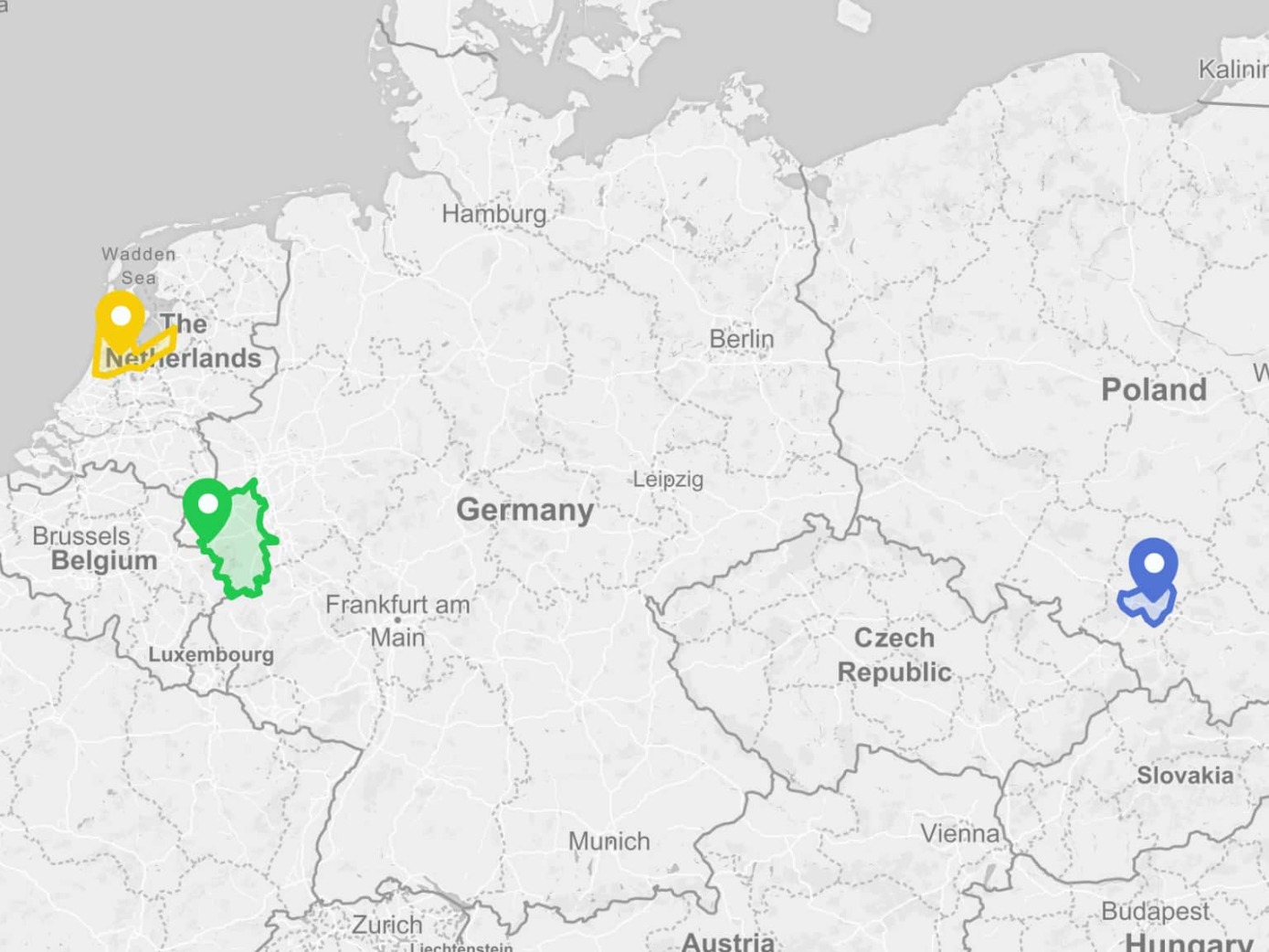 Introduction to the region
Used to be a coal-mining region which is now developing a new focus towards a sustainable economy.
Regional economy with a strong base in industry and manufacturing paired with a skilled workforce and an excellent research landscape.
Favourable geographical conditions and high level of accessibility of the area due to a well-established transportation infrastructure.
State of transformation
Transition towards a new economic focus is under way and supported with substantial financial contributions by the German federal government and the state of North Rhine-Westphalia as well as a binding regional development plan.
Well-developed waste management infrastructure with modern public and private companies engaging in collecting, dismantling, and recycling in the wider region.
Public awareness on polyurethane and chemical recycling is low, thus there is a need and potential of positive framing.
Policy goals
General political support for circular economy solutions but lack of clear policy goals and precise indicators.
A new overall national circular economy strategy is being developed, state of North-Rhine Westphalia will follow with concrete guidelines.
Zero waste impulse program 2050 is being compiled under the responsibility of the Ministry of Environment.
Introduction to the region
Most industrialised region of Poland with a noticeable shift from heavy industries towards new and green economy.
Convenient geographical location, highest degree of urbanisation and population density, well organised transportation infrastructure as well as a close network of scientific and research institutions, make Upper Silesia/Metropolis GZM one of the most attractive regions in terms of investment. It is also one of the strongest economies of the country.
However, as the region is undergoing a continuous transformation, it faces economic, technological and social challenges.
State of transformation
Traditionally seen as center for energy and heat production in Poland, Upper Silesia/Metropolis GZM is in the middle of a major structural change from black to green industries.
It is in the early stages of transformation from linear to circular economy.
Stakeholders perceive the potential of the region as a possible PU recycling centre due to its convenient geographical and transport conditions, high level of industrialization and the availability of waste management and recycling operators.
On the other hand, a low public awareness on the relevance, urgency and opportunities of becoming circular can be observed.  
Policy goals
In spite of favourable declarations, currently the region lacks consistent action and comprehensive planning in waste management and recycling as well as significant policy initiatives towards the introduction of circular economic solutions.
Political leaders are hesitant to move the transition towards a circular economy forward with ambition.
Governmental bodies and industry mostly pursue a wait-and-see approach on the future plan to establish hubs for circularity.
Introduction to region
The Amsterdam Metropolitan Area (AMA) is a global centre for banking, financial services, and business services. It is also a center for manufacturing and industry, as well as for tourism.
The AMA can be described as a stable economic powerhouse for the Netherlands - with a high level of productivity, market leading international companies, low unemployment and a skilled workforce.
The AMA is following a firm circular economy vision and action plan, with:

long-established citizen awareness and behaviours supporting recycling,
legislation and policies in place supporting recycling, recycling and circularity enterprises, and
high degree of accessibility through its well-developed transportation infrastructure.
State of transformation
The region comprises modern collection and sorting systems for waste which not only have a high local density of collection points but also uses (digitised) technologies to constantly improve its sorting and recycling abilities for various material flows. Insulation materials are currently not widely reused or recycled since recycling of these materials is not economically viable.
The Netherlands is amongst the European countries with lowest recycling rates of e-waste. Recycling of refrigerators is at approximatly 70% (by number of appliances).
The Netherlands is characterized by a high degree of public awareness for a sustainable use of resources. The public debate on making progress on circular economic solutions is very lively and diverse - pushed by a diverse set of stakeholders
Policy goals
Guided by the goal of the country becoming net-zero, by a concrete circular economy implementation programme and an ambitious national waste management plan, the Netherlands are set to go fully circular by 2050.
This goal is strongly facilitated on the regional level - with an ambitious Amsterdam Agreement for AMA and specific policy initiatives such as Amsterdam Circulair 2020-2025 Strategie. By 2025, the Greater Amsterdam project will deliver a collaborative waste collection and dismantling network of local private and public waste collection companies located in the Port of Amsterdam.
These goals are supported by a high level of alignment in politics, science, business and society.